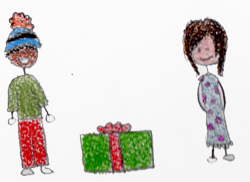 Sponsoring a family through CCC is a very personal giving experience.  With a commitment of just $60 and a bit of your time, you will help keep a child's faith in the magic of Christmas and embrace the spirit of giving with your family, organization or company. Sponsoring a family is simple to do:
1. Call our offices in mid October or November to be matched with a family
2. Call the family and receive the child's "Wish/Need List"
3. Shop and deliver the gifts to the family by December 16.
You can share in the spirit of the holidays by helping those in need. Organize your family, friends and neighbors to help one or more families this season. By involving scouting, church or school groups, even more children will be helped through our giving program. To sponsor a family, in mid-October call 262-896-3390, between 9 am and 3 pm, Monday to Friday, to be matched with a family in need. Additionally, we are open Monday evenings between 6 pm and 8 pm beginning the second week of November. You can also complete a CCC Sponsorship Form and e-mail, fax (262-896-3393) or mail it to us (Christmas Clearing Council of Waukesha County, PO Box 34, Waukesha, WI 53187) so that we receive it before the first week in December.
Thank you again for sharing your time and resources to help children in need.